Biblical Counsel & Mediation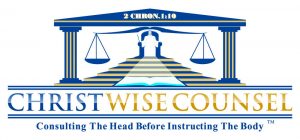 The Biblical Counsel & Mediation arm of Wisdom and Power in Christ Ministries International (WPCMI) is Christwise Counsel®. It is the mandate of Christwise Counsel to teach and admonish counselees in the Wisdom of God  [Colossians 3:16] [2 Timothy 3:16-17].
We believe that the Bible is the inerrant, inspired word of God
[2 Timothy 3:16]  and since all things were made by the word of God, [John 1:3] [Colossians 1:16] We believe that all things can be restored by the word of God. The Word of God is alive, active and powerful [Hebrews 4:12].
Wisdom and Power in Christ Ministries International (WPCMI) through Christwise Counsel® offers "Biblical" or "Bible based" counsel and mediation services to individuals, organizations or whosoever desires Christ-centered counsel and is willing to humbly approach God in faith believing that He can and will supply wisdom (light) to resolve their issues of life.

It is important that all counselees know that;
Without faith it is impossible to please God, for he who comes to God must believe that He is, and that He is a rewarder of those who diligently seek Him. [Hebrews 11:6]
and;
Let him (counselee) ask (of God) in faith, with no doubting, for he who doubts is like a wave of the sea driven and tossed by the wind. For let not that man suppose that he will receive anything from the Lord. [James 1:6-7]
Our Approach
WPCMI's counseling sessions focus on standing in the counsel of God and consulting Him to determine what the root of this issue is and the right course of action to take to resolve the issue. Getting counselees into faith in Christ is paramount since All the promises of God are realized through hearing and obeying the voice of Christ. [2 Corinthians 1:20]
 WPCMI relies on the Wisdom of God to discern demonic strongholds and yokes and on the Power of God to uproot and destroy them [Isaiah 10:27][2 Thessalonians. 2:8]. We aim to shine the bright and intense searchlight of God's Word into wherever there might be darkness in the soul of the counselee. When the light of God enters the human soul, it begins to disintegrate darkness and expose and expel evil and oppressive spirits that love darkness (and are responsible for fear, doubt, insecurity and mental and physical illness). God's Word is light [Psalms 119:105] [1 John 1:5] and it is the entrance of it into the human soul that brings light into the soul.
WPCMI's approach to Biblical Counseling and Sozo Ministry (Deliverance Ministry) is to shine the light of the gospel of truth into dark places. The only requirement is for the counselee to open the door of their heart in faith and let the light of God's truth enter every darkened area of their life.
WPCMI offers individual counsel (for personal struggles), familial counsel for families and corporate counsel for nonprofit organizations and commercial organizations. There is no charge for individual counsel, although the number and duration of these sessions is limited to our availability. Our Counsel and Mediation services are offered on a first come, first served basis and are by appointment only (usually in thirty-minute sessions).

Some of the many themes we deal with are self- esteem, depression, marital and non-marital relationships, parenting and children, business and financial failure, life transitions, family disputes and disputes within the body of Christ and the burden of sickness and disease.
Mediation
It is a biblical model for believers to resolve issues amongst themselves as much as possible. Our ministry offers this service for all those interested in seeking God's counsel and mediation to resolve their internal conflicts. We provide an unbiased biblical perspective. Our allegiance is to the heart of God and the truth of His Word.
Dare any of you, having a matter against another, go to law before the unrighteous, and not before the saints? Do you not know that the saints will judge the world? And if the world will be judged by you, are you unworthy to judge the smallest matters? Do you not know that we shall judge angels? How much more, things that pertain to this life…?  [1 Corinthians 6:1-3]