Volunteer
Wisdom and Power in Christ Ministries International is a service oriented ministry. We believe in serving God by serving people. We also believe that charity starts at home and spreads abroad, that is to say we believe in serving and building up the body of Christ first in order that it may be in a better position to carry out God's commission to the world.
We believe that service to God is the key to us growing in grace and in the knowledge of God[2 Peter 3:18]. Christ served His father by serving us. Christ lived to serve, died serving and was resurrected and continues to serve us as high priest and intercessor at the right hand of God [Mark 10:45] [Romans 8:34]. Christ teaches us through His words and deeds that ministry borne out of a pure heart is hallmark of greatness. [Mark 10:43]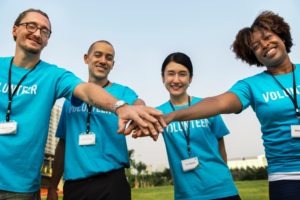 If you are Kingdom-minded and know what your talents and gifts are or if you possess skills, knowledge and abilities that you have developed and would like to lend them to our ministry for the Glory of God, we are interested in hearing from you. Some of the areas of our ministry in which the Lord has need of you are in the areas of Website Development and Maintenance, Social Media Marketing and Promotion, Camera Operations, Ministry Journalism, Music and Singing and Language Translation and Interpretation.

Wisdom and Power in Christ Ministries International is mission oriented, so our volunteers may assist front stage or behind the scenes. We are open to additional areas of assistance. To express interest or request an application to volunteer with us, please send us an email via the Contact Us link at the top right end of the home page menu bar.